Tales of Nebezem: Elemental Link STEAM KEY REGION FREE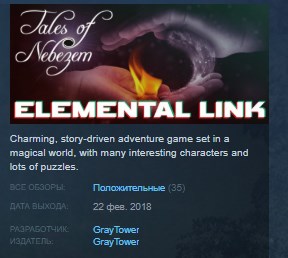 https://store.steampowered.com/app/788410/Tales_of_Nebezem_Elemental_Link/
💎💎💎💎💎💎💎💎
STEAM KEY REGION FREE GLOBAL
Maoti is raised by his mentor and trained to become a herbalist in the northern wetlands. The northerners adhere to an all-encompassing Order, which strictly controls everybody´s fate. But not everyone is happy to follow the rules and the long-lasting age of peace is coming to its end.
Corvus is a magus living in the harsh desert. His people are at war with another clan that also believes to be chosen by Pyros the fire god. Corvus finds a way to invade the distant land of the northerners, where his clan could gather resources to fuel the war effort.
As the two fundamentally opposed cultures meet, great conflict emerges. But the gods have their own agenda, which happens to involve both Maoti and Corvus, as well as a girl from the earthy kingdom and a girl from the land of air. Together, they are destined to change the world.
★ Immersive story, over 60 characters, a world that is fun to explore
★ Many entertaining puzzles, optional side tasks
★ ★ Strategic real-time fights using magical skills
★ Steam achievements
---
ИНСТРУКЦИЯ ПО АКТИВАЦИИ:
1. Необходимо скачать и установить Steam http://steampowered.com/download/SteamInstall.msi
2. Зайти под своей учетной записью или зарегистрировать новую.
3. Перейти в раздел "добавить игру" и выбрать "Активировать через Steam...", ввести ключ полученный после оплаты.
Цена:
15
руб.
Купить или узнать подробнее
← Назад на главную страницу